Maillot de bain taille basse Neon Tof Paris - Jaune fluo
---
---
Secure payment
According to your choice by credit card (Amex, Visa, mastercard, etc..), PayPal, cheque or bank transfer
Fast delivery
All orders placed before 3:30 pm are shipped the same day (except on weekends).
30 days to exchange
Take the time, here, it's satisfied or exchanged. (Metropolitan France only)
Important note
For hygiene reasons, this article cannot be returned. In case of doubt, contact us.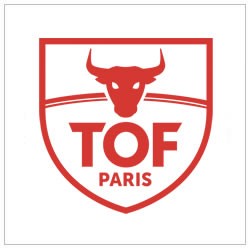 Data sheet
Colors

yellow

Materials

78% polyester, 22% élasthanne

Material (composition)

polyester

Country of manufacture

france
Specific References
ean13

3701522915946
View size chart
Maillots de bain TOF Paris
16 other products
---
These ultraconfortable bathing briefs are presented to the taste of the day with a motif of the new season.
Elasticated stretch material offers great freedom of movement.
The piece features a sober " diesel " lettering on the front.
DrawString waist
€29.79
Regular price
€45.83
Price
Discover the essential sport colorama of the brand HOM offered in a lycra material resistant to chlorine and seawater.
The fabric and accessories of this item are made in Europe.
With cut-and-sewn stripes and a HOM logo band, this model is available in a shape that will satisfy you.

Opt without further ado for this swimsuit that will give you a dynamic and sporty look while elegant.
€26.25
Regular price
€37.50
Price
Low waisted briefs, double effect. It is both an underwear, but it can also be worn in swimsuit thanks to its very soft and very resistant microfiber material.

Its push-up pocket ensures an exceptional fit, and a perfect hold by highlighting your assets naturally.
The UP pocket envelops your privacy and acts as a hanger for a guaranteed and natural advantageous visual appearance.

It is perfect to go to the beach or pool wearing it under pants or jeans.
Material and design are at the forefront of technology, and this briefs for men will ensure optimal comfort throughout the day, but also underwater.

In a high-end fabric that is very soft and therefore very comfortable, you get a perfect molding and great stretchability at the time of each movement.
Very soft, very flexible, this material also has the property of drying quickly.
Like all ADDICTED products, it was designed and manufactured in Barcelona.
New cut slightly longer for this bath Boxer signed ADDICTED that will cover your thighs more than what we used the brand.
Striped, sailor-style inserts offer this Boxer a trendy and sporty look.
This swimsuit ADDICTED has the built-in Pack-up system and patented by ADDICTED.
The "pack-up" is an extractable piece that is placed on the front of the Jersey, inside, and accomplishes two fundamental objectives and functions:
Give a good curve to the frontal hull.
Help avoid inconvenient shrinctures due to water temperature.
Easy to remove if you don't need it.
This swim Shorty has a drawstring that will provide you with a perfect fit to your morphology.
This product is designed and manufactured in Spain.
Original swimsuit with timeless camo and sailor prints 

Low rise swimsuit, fitted and curved on the sides  
Seamless swimsuit on the sides and back  
Foam lined crotch and front pocket for a nice package  
Contrasting belts with camo and sailor patterns   
Impeccable finish with eyelets and TOF logo drawstring  
TOF logo in silicon neck
Designed and sewn in Paris
Made in France

Discover the Marina line without further ado!
Men's swim shorty comes in a polyamide/elasthane material that gives you perfect ease.
This italian material of very high quality is, in addition, resistant to chlorine. It has the property to dry very quickly.
You'll also appreciate the many qualitative finishes that will ensure total comfort such as the inner cord for a perfect fit.
You will notice the attention paid to aesthetics: HOM metal plate and worked waist band.
The entire swimsuit is lined (light color) to avoid any transparency effect.
Opt for these timeless summers, which incorporate all the expertise of the HOM brand.
€28.58
Regular price
€40.83
Price
The WINNER men's bath boxers, made from elastane polyamide, have a select and dynamic sports print. This men's swimsuit is available in 2 basic colors: navy blue and red

Belonging to a special fashion line called Play the game, the WINNER is a swimsuit for men with the aesthetic codes of the high level sport. Its cut and material make it a quality swimsuit, very attractive , it comes in two colors, navy blue and red. On one side, it is decorated with interwoven blue-white-red links.

The straight cut of the boxer WINNER highlights all male anatomy. Its simple and sporty style makes this line of swimwear timeless and indispensable.

The resistance quality of the boxer WINNER is suitable for any swimming practice, at the pool or at sea. This men's swimsuit is made of elastane polyamide, a material that does not wrinkle and respects the intensity of the colors, whether with a use in salt water or chlorinated water.

As with all HOM creations, this swimsuit is OEKO-TEX® certified for the non-toxicity of all components (fabric, thread, dyes) and for its ability to reduce allergy risks.

The Play the game line and the WINNER swimsuits are available in men's swimwear, men's swimwear and men's swimwear.




The Modus Vivendi Dark Swimwear Line, features some sexy low rise bathing suits made of a fast fabric and is clearly serving the punk rock style.
All swimwear suit designs are offering minimal coverage, being sexy but still elegant, and are available in three colors all combined with black.
Υou no longer need to compromise with ordinary bathing suits, you can bright up the dark part of you even near the sea, and give your beach look a personalized style. Dark Line has landed.  
regular fit
fast drying elasticated fabric
side press stud metallic pyramids
removable plastic chain 77 cm length ( can be worn as a necklace )
front part lining of fast drying elasticated fabric
sewn rubber logo label
€48.05
Regular price
€73.92
Price
The Modus Vivendi Gordian Knot Swimwear Brazil Boxer features a square cut boxer. Inspired by the ancient Greek Myth of Gordian Knot. This trunk boxer style swimwear suit is offering minimal coverage; is masculine and sexy, ideal for the man who loves to have fun and reveal a bit of his goodies while at the beach.
    regular fit
    shiny metallic and fast drying fabric
    unlined design, extra revealing
    sewn rubber logo label on the internal waistband opening
€26.08
Regular price
€37.25
Price
Revisited Sunga by TOF
Low cut seamless short. No lining for a complete liberty
Indentation of the sides
Floral pattern printed polyamide fabric
Folded waistband reinforced with a TOF printed drawstring
TOF logo in transparent silicone sewn on the right thigh
Designed and sewn in Paris
Made in France
Special and exclusive swimsuit in exclusive fabrics. The main fabric is printed with flowers and leaves, while the belt and sides are made of striped lurex fabric.
The ES Collection silicone logo is present on the left side.
You will appreciate the front cords for a better fit and comfort.
This men's swimsuit benefits from PACKUP technology on the front pocket.
The "pack-up" is a removable part that is placed on the front of the jersey, inside, and that accomplishes two fundamental objectives and functions :
Give a good curve to the frontal shell.
Help avoid inconvenient shrinkages due to water temperature.
Easy to remove if you don't need it.
Proudly designed and manufactured in Barcelona.
Knitted bath boxer
Inner cord
Inner lining
Printed Impetus Logo
Made in Portugal
ATHENA offers a range of Men's Sport swimwear
This ATHENA Sport bath boxer is a quality product with a technical look that is suitable for swimming in the pool as well as in the
sea.
It's a modern skinny boxer with very accomplished finishes: silkscreen prints, with a brilliant tone on a turquoise logo.
ATHENA shows all its know-how and creativity through this very graphic and sporty offer, for men who have already adopted the form as a swimsuit or for future fans.
A Bath boxer typed Sport that guarantees quality and small price.
€13.20
Regular price
€16.50
Price
Men's swim trunks, tight fit, low waist, contrasting stripes.
Swim shorty, no seams on the sides
High quality, Italian-made polyamide fabric
Generous lined front pouch for an enhanced bulge effect
Various choices of sizes and colors
Silicone TOF logo
Designed and sewn in France
Made in France.
The shorty bath PALMA HOM is a short lycra bath boxer for men in original elasthanne polyamide by its material and cut.
The fabric is textured, with a soft stripe alternating matte and shiny, solid.
The direction of the stripes is different on the front horizontal and the back vertically. The original skewed cut-out on the front leg brings the stripe from the back onto the thigh and gives a sophisticated effect to this swimsuit.
The front of this swim shorty is fully lined with 100% polyamide foam fabric.

This swim shorty benefits from a bandeau shape covering from under the navel to below the buttocks. The shorty shape is particularly appreciated for its support and coverage as a lycra swimsuit. A leg stocking elastic secures the shorty well on the thigh.

The thin elasticated belt of this swim shorty is folded down, covered with fabric with vertical stripe. The men's bath shorty PALMA closes with a flat cord to tie on the front inside. A small metal plate subtly logotypical HOM is sewn to the belt with a small ribbon.

Polyamide is a particularly suitable material for swimwear: it dries quickly and does not retain moisture, fixes colors well and does not rub off. It is a very solid and durable material, but also flexible and resistant to friction. Elastane brings this swim shorty elasticity and comfort.

PALMA is a trendy line of bathing season, to cater to all tastes in lycra.

€32.50
Regular price
€50.00
Price